Reservation scooter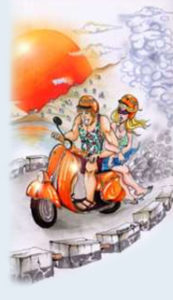 Positano Rent a Scooter is the only  rent a scooter firm working directly in Positano. Located in the center,  zone "Punta Reginella" , it's very easy to reach from all the places of  the village.
Positano Rent a Scooter delivers the scooters in via Pasitea n.99 or directly to your hotel or from every place requested by the customers.
It  is possible to rent lots of differente Kind of scooters.The "Positano  Rent a Scooter" firm gots the following scooters: 125 cc , 150 cc or 300 cc ,  useful eitherfor  one person or for two people.
Our firm will give you the chance to park the scooter in a private parking for all the renting time. That service is free.
Our Services
Rent a Scooter in Positano Center
100%
Rental at home and on site
100%
Availabie Scooter 125 cc, 250 cc, 300 cc
100%
Free parking for customers
100%
Our Scooter
Reservation scooter